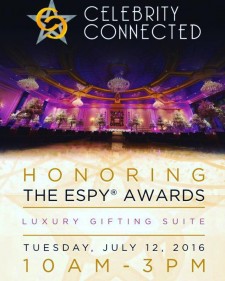 For anyone who's ever wondered what it's like to be inside a luxury gifting suite, Celebrity Connected is finally offering viewers the opportunity to peek in on this secret world. Providing a live stream from the Honoring Espy Awards gifting suite on July 12, 2016, Celebrity Connected will offer fans a chance to witness the magic from 10 a.m. until 3 p.m. Pacific Time.
CELEBRITY CONNECTED IS LIVE STREAMING A GIFTING SUITE FOR THE FIRST TIME.
People watching the gifting suite live stream will discover what it's like to be a star, looking on as their favorite famous celebrities score lots of loot.
LOS ANGELES, CALIFORNIA 07/12/2016, 10 am – 3 pm PDT
LIVE STREAM: https://youtu.be/VXy_3Bob_a0
For the very first time, people all across the globe will be able to log on and experience a Celebrity Connected gifting suite in real-time. All they will have to do is check out on Youtube Live Stream at 10am-3pm on July 12 and then experience the life of luxury for themselves. Over 100 celebrities will be mixing and mingling during this event, and some of them will be interviewed by journalists as they walk through the event.
Celebrity gifting suites have been making the news regularly in recent years, playing to the public's fascination with the world of A-list athletes, movie stars, musicians, and other luminaries. It's not difficult to see why people love to hear about these luxury gifts.
Celebrity Connected's live stream will give viewers the opportunity to disconnect from their troubles for a few hours, allowing them to live the lives of A-listers—without any of the drawbacks or responsibility. As far as escapism goes, it doesn't get any better than this. This live stream will also give fans a chance to catch a glimpse of their favorite stars in unguarded situations, letting their hair down as they check out new products. It's also an excellent way to see what the latest and greatest items on the market are.
Now it's easier than ever for people to see what it's like to be a top-notch celebrity at an exciting event. Celebrity Connected is offering viewers unprecedented access to the lives of the glitterati, and since it's a live feed, there's no telling what could happen. In these kinds of relaxed situations, stars have a tendency to go off-script, inviting fans into their everyday lives.
Celebrity Connected is a California-based company that allows brands, influencers, and celebrities to combine for maximum benefit. With a proven track record, this firm excels at creating quality connections that generate positive buzz for everyone.
Share: